Segregation Continues at American University–Fall 2021
One of the great benefits of being a fulltime employee at American University is that you or your child or partner can earn a free Bachelor's degree, a free Master's degree or a free law degree. See the big picture of how this tuition benefit works at https://www.american.edu/hr/benefits/education/tr.cfm. See who is eligible at https://www.american.edu/hr/benefits/education/tr.cfm#collapse-5392458.
Today the program is pretty much for white people since most of the faculty and staff on campus are white. The hundreds of Black and Latino service workers on campus are not eligible because over the years they have worked ON CAMPUS for private companies such a Marriott, Bon Appetit, Aramark, and now Chartwells—AU's newest food vendor.
One thing that you need to know about the service workers is that they are not transient. Many are here for decades. They work hard for the students and faculty even if they do not receive checks directly from the university. This is not a McDonald's workforce. They have a union. Their contract provides health benefits and a monthly contribution to retirement. Some have worked ON CAMPUS for far longer than any administrator. One worker, Leila Williams, has served food to students in the Mary Graydon dining room for over 50 years.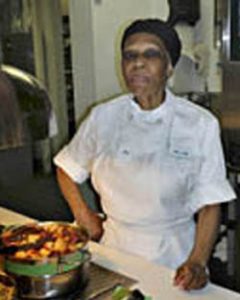 In her five decades ON CAMPUS, Williams has never been able to take a free course although a new hire who is a fulltime AU employee is eligible within four months. In all of her time ON CAMPUS, Williams has never been eligible for one of the most valuable employee benefits: FREE TUITION.
By excluding service workers from free tuition, AU is currently doing its very best to contribute to the well-known gap in educational attainment between the races and ethnic groups in the United States. And it continues with this policy of excluding campus service workers from educational benefits in spite of its much publicized policy of "inclusive excellence." What a joke is inclusion on the AU campus.
Age 81, Ms. Leila Williams started work on campus in 1966. She has not able to retire since the food service vendor that AU brought to campus in the early 1980s did not make pension contributions.
Next: The Franklin and Marshall model of including service workers in tuition benefits.